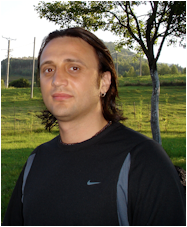 First-Degree Navara Acharya
Nitya is a First-Degree Navara Acharya (Spiritual Teacher) in Navara.
He was born in Romania in 1972 and moved to Canada in 1998.
---
Main Teaching Location:
Languages:
Navara background:
First contact with the Navara School was in 1995 when he met Shri Guru Navara.
He started the Navara practice in 1996 under the direct guidance of Shri Guru Navara.
He was admitted at the Basic Levels (First Nita) in the Navara School in Apr 2007, when he received The Initiation of Entering The Navara School.
Ordained as First-degree Navara Acharya (Spiritual Teacher) in April 1997.
Member of The Sacred Council of Navara School.
Lifestyle and Holistic/Alternative Medicine:
He became vegetarian completely in 1996.
Master of Usui Reiki
Master of Shichidan Reiki (Reiki of 7 Levels)
Master in Karuna Reiki
Bioenergy healing – 2nd degree.
Yumeiho Therapy – 1st degree
Certified Hypnotherapist in Ontario, Canada.
Studies:
Bachelors Degree in Computer Science.
Courses in Alternative Medicine: Bioenergy, Usui Reiki, Shichidan Reiki, Karuna Reiki, Hypnotherapy, Stress Management and Yumeiho.
Occupation:
Reiki Teacher, Hypnotherapist and Clinic Manager at a private Naturopathic Clinic in Toronto, Canada.
Hobbies:
BLESSING TO THE SUPREME GOD NAVARA!
BLESSING TO SHRI GURU NAVARA!
BLESSING TO ALL THE CHILDREN OF NAVARA!