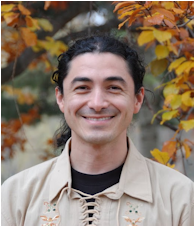 Navara Instructor
Nata is a Navara Instructor.
He was born in Guatemala City, Guatemala, Central America, in 1976.
---
Main Teaching Location:
Basic levels in Guatemala City.
Occasionally Toronto Canada.
Languages:
Spanish, English, basic German.
Navara background:
First contact with the Navara School was in Feb 2008, when he started The Preliminary Level of Practice.
He was admitted at the Basic Levels (First Nita) in the Navara School in July 2009, when he received The Initiation of Entering The Navara School.
Invested as Navara Associate Instructor in July 2010.
Invested as Navara Instructor in October 2010.
Member of The Sacred Council of Navara School.
Lifestyle and Holistic/Alternative Medicine:
Started a combination of Meditation-Tai Ji Quan- Ji Kung practices in April 2002.
Attends Mayan Spiritual Ceremonies since December 2007.
Gave up meat completely and became a vegetarian in March 2009.
Initiated in classical Reiki – 3rd degree.
Seichim – 2nd degree.
Kurama Kokyo Reiki – 2nd degree.
Karuna Reiki – 2nd degree.
Bioenergy healing – 2nd degree.
Studies:
University Biologist Degree (B.Sc) at San Carlos University, Guatemala City.
Master in Science (M.Sc.) in Rural Development and Natural Resources at El Colegio de la Frontera Sur, Chiapas, Mexico.
Diploma degree (postgraduate level) in Community based Forestry at Faculty of Latinoamerican Sociology, Guatemala City.
Courses in Maya History and Maya Hieroglyphic reading at Popol Vuh Museum, Guatemala City.
Currently Ph.D Candidate in Physical Geography at Department of Geography, University of Toronto.
Occupation:
Professor at Department of Zoology, Genetics and Wildlife in San Carlos University of Guatemala, Guatemala City (since January 2003).
Sports:
Nature, art, music, reading, photography, filming, movies, anime-manga, writing poetry, guitar, singing, dancing, percussions, drawing.
Hobbies:
Martial arts (Tai Ji Quang Wu Style, Muay Thai –basic level), hiking, soccer-futbol, biking.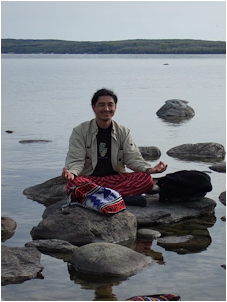 BLESSING TO THE SUPREME GOD NAVARA!
BLESSING TO SHRI GURU NAVARA!
BLESSING TO ALL THE CHILDREN OF NAVARA!