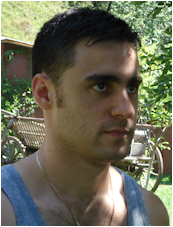 Navara Instructor
Udatma is an Instructor in Navara.
He was born 1976 and lives in Romania.
---
Main Teaching Location:
Languages:
Navara background:
First contact with the Navara School was in 1995, when he entered The Preliminary Level of Practice.
He was admitted at the Basic Levels (First Nita) in the Navara School in 1995, when he received The Initiation of Entering The Navara School.
Invested as Navara Assistant Instructor in February 2009.
Invested as Navara Instructor in July 2011.
Member of The Sacred Council of Navara School.
Lifestyle and Holistic/Alternative Medicine:
Gave up meat completely and became vegetarian in 2006. 
Initiated in classical Reiki – 5th degree.
Kurama Kokyo Reiki – 2nd degree.
Seichim – 2nd degree.
Karuna Reiki .2nd degree.
Studies/Profession:
College of Dental Technique.
Dental Technician.
Hobbies:
BLESSING TO THE SUPREME GOD NAVARA!
BLESSING TO SHRI GURU NAVARA!
BLESSING TO ALL THE CHILDREN OF NAVARA!