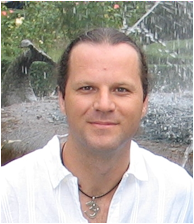 Navara Kenava
Regional Director of Navara
Second-Degree Navara Acharya
His Holiness Bhavanti Mahasaya is the Navara Kenava(Regional Director) for the Americas and Australia.
He is a Second-Degree Navara Acharya (Spiritual Teacher).
Bhavanti was born in Romania in 1970 and moved to Canada in 1997.
---
Main Teaching Locations:
Toronto, Canada.
Waterloo, Canada. 
Languages:
English, Romanian, German.
Navara Background:
First contact with the Navara School was in 1994 when he met Guru Navara.
He started The Preliminary Level of Practice in 1995 and received the spiritual name "Ramagovinda Hari".
He was admitted at the Basic Levels (First Nita) in the Navara School in March 1997.
Ordained as First-degree Navara Acharya (Spiritual Teacher) in July 2001.
Named Mahant Acharya (Director Teacher) of The Navara Center in Toronto, in 2001.
He received the spiritual name"Bhavanti" in 2009.
Accepted at the Second Basic Level (Second Nita) in July 2009.
Ordained as Second-Degree Navara Acharya in July 2009.
Invested as Navara Kenava (Regional Director) for the Americas and Australia in July 2009.
Member and Vice-President of The Sacred Council of Navara School.
Honorary Member of the Advaita Organization.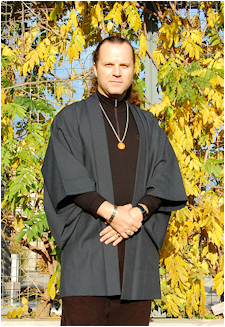 Spiritual Ordainments:
First Degree Navara Acharya
Second Degree Navara Acharya
Christian Priest in Navara Church
Christian Bishop in Navara Church
Yoga Acharya
Yoga Acharya (Advanced)
Lama (Buddhist Teacher Priest)
Rinpoche (Buddhist High Level Teacher Priest)
Lifestyle and Holistic/Alternative Medicine:
Gave up meat completely and became a vegetarian in 1994.
Master-Teacher Usui Reiki.
Master-Teacher in 7–Degree Reiki.
Kurama Kokyo Reiki (2nd degree).
Tummo Reiki
Kundalini Reiki
Imara Reiki
Seichim (2nd degree).
Karuna Reiki (2nd degree).
Bioenergy (2nd degree).
Radiance Technique (2nd degree).
Yumeiho massage.
Shiatsu
Silva Method.
Radiesthesy (Dowsing).
Chi-Kung
Astrology
Initiations in other spiritual lineages:
Initiation in Vajrayana Kagyu (Tibetan Buddhist School of Milarepa) in 1995, when he received the spiritual name Karma Shenpen Wangchuk ("Almighty help for others").
Initiation in Brahma Kumaris Yoga.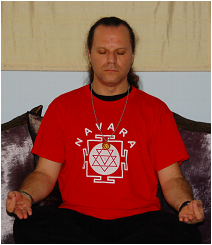 Studies:
Polytechnic University of Timisoara
Profession:
Electronics engineer (Master of Science).
Hobbies:
music; art; nature; traveling, photography, reading, watching movies.
Sports:
Martial Arts(Wing Tsun), hiking, biking, skating, skiing, swimming.
Words of wisdom: 
"Always stay with The Light!"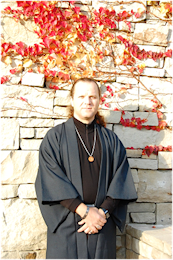 BLESSING TO THE SUPREME GOD NAVARA!
BLESSING TO SHRI GURU NAVARA!
BLESSING TO ALL THE CHILDREN OF NAVARA!